So, what makes great content for a business? That's a pretty big question because it really does depend on your type of business. But for the purposes of this article, we'll answer it with some basic tips for creating compelling content for your business. Specifically blogs and video blogs.
What we feel many potential customers want is information and education when they land on your website, social media site and even your YouTube channel. They are seeking information about a certain issue or concern and by helping them through that issue, you can end up being the authority if your content is created properly. Let's discuss a few tips for laying out your content so it helps your customers and positions you as the expert.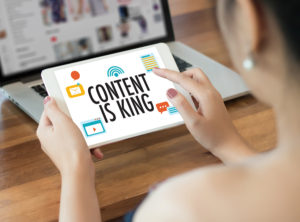 First, research your topics. You should be able to understand your customer's issues and concerns. After all, you are in business to help clients and customers. They have a want or a need and you should understand that. Create an ongoing list of these by tapping into your staff or even surveying your clients. Then you can create a master list and even a content calendar and a plan to help guide you through the process of creating your content.
Organize your thoughts. Structurally, your blog or video blog should outline three to five key points to help your customer solve his or her issue. Create an introduction to the concern, lay the groundwork and then begin to help the reader of your blog or viewer of your video solve their problem. Help them understand what they are facing and be the solution provider. And don't forget to be a clear as possible.
Avoid the jargon. In some cases, industry jargon is necessary. But the overuse of it will not help you in any way and in fact, will turn off many people. Often times we interview clients to help create blogs or video scripts and they speak in terms we don't understand. Then we have to ask what something means. If we are asking, there's a good chance that your readers and views will be doing the same. Keep it simple.
Learn to write or get help. When it comes to blogging and other forms of writing that you post, you really need to make sure what your organization is putting out there is written well. That means the flow of your work, grammar, spelling and punctuation. It also means being able to construct your content so it can be easily read by those that are consuming it. If it takes forever for you to get to the point, or your writing is all over the pace with random thoughts, you'll confuse the reader.
The same goes for video scripts. Your thoughts should be well organized so the viewer can solve their issue and not shut your video off before they get what they need form it.
If writing isn't your thing, you don't have the time or you just need help putting a plan together, consider getting professional help from a ghost blogger or ghostwriter, or a professional marketing or public relations consultant. We're all good at something but we also have our weaknesses as humans. How we move forward in business and in life is to recognize our strengths and weakness and get help when we need it.